Reimagining Treatments for Complex Disease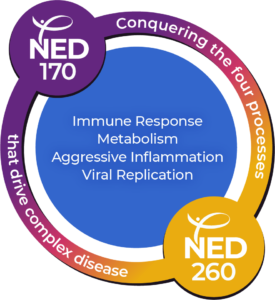 NED Biosystems™, a Delaware Public Benefit Corporation, has spent over 10 years reimagining treatment for cancer, culminating with the development of the patented NED-170 Cancer.
NED-170 Cancer is an investigational, oral, systems combination treatment designed to impact the major processes that drive cancer designed to improve outcomes with low toxicity. 
NED-170 Cancer's treatment goal is to fit the large unmet need for ~50% of patients for whom there is no genetically sequenced "matched" therapy options.
Today, NED is deploying its systems methodology to develop NED-260 to combat infectious disease, beginning with COVID-19 and its variants.
NED-260's treatment goal is to act early in the infection process to minimize, or eliminate, the advancement to severe disease, allowing fewer patients to be hospitalized, ideally allowing many patients to recover at home.
NED-260 and NED-170 Cancer strive to lessen the impact of two of the deadliest diseases faced by humanity today.